Douala, Cameroon, January 11, 2022
Prudential Africa has signed a sponsorship agreement with the Confederation of African Football (CAF) to become the official insurance partner of the 33rd edition of the Africa Cup of Nations (AFCON) 2021.
At a press conference to announce the sponsorship, Eric Mboma, Chief Representative Officer, Prudential Northern Africa Region said the sponsorship underscores Prudential's commitment to the African continent.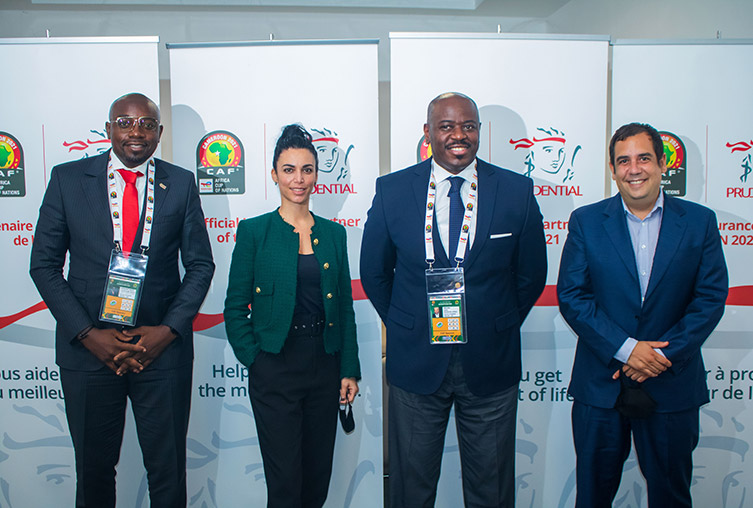 "As we grow our business in Africa, we also want to support the passion and talent of its people. Africans share a common love for football, and we are honored to be part of a tournament that unites the continent and brings together the brightest talents of African football."
Commenting on the partnership, Confederation of African Football (CAF) General Secretary Mr. Véron Mosengo-Omba said, "We are excited and pleased to have onboard Prudential as a partner. We share a common purpose in our commitment to developing local talent as well as driving prosperity for the people of Africa."
Mr. Mboma added, "Through sports, Prudential wants to encourage people to stay active and lead more healthy lifestyles. As a life insurer, we believe that health and wellness are important for people to live fulfilling lives."
AFCON 2021 has already started and will continue till 6 February 2022 with Cameroon as the host nation.
Prudential established its first office in the region seven years ago. Today, it serves over 1.3 million customers, and has a strong distribution network of more than 13,000 agents and over 600 bank branches across 8 countries, namely Ghana, Kenya, Uganda, Zambia, Nigeria, Cote d' Ivoire, Cameroon and Togo.
Ends/….
For more information please contact:
Ummulkher Mohamed
Mobile: +254 720415854
Email: Ummulkher.Mohamed [at] Prudentiallife.co.ke
---
About Prudential Life Assurance Kenya
Prudential Kenya Assurance Limited is the local subsidiary of Prudential Plc, an Asia and Africa focused life insurance and asset management company.
Founded in 1848, it is one of the oldest and most prominent insurance companies in the world and renowned for settling thousands of claims to families during both World Wars, after the Titanic sinking, and even during the Spanish Flu of 1918.
Prudential Plc is currently listed on the London, Hong Kong, Singapore and New York stock exchanges. In Africa, Prudential also operates in Ghana, Uganda, Zambia, Nigeria, Togo, Cote d'Ivoire and Cameroon.
About Prudential plc
Prudential plc provides life and health insurance and asset management, with a focus on Asia and Africa. The business helps people get the most out of life, by making healthcare affordable and accessible and by promoting financial inclusion. Prudential protects people's wealth, helps them grow their assets, and empowers them to save for their goals. The business has more than 20 million life customers in Asia and Africa and is listed on stock exchanges in London, Hong Kong, Singapore and New York.
Prudential plc is not affiliated in any manner with Prudential Financial, Inc., a company whose principal place of business is in the United States of America or with The Prudential Assurance Company Limited, a subsidiary of M&G plc, a company incorporated in the United Kingdom.