PRUCritical Care
Catch the unexpected diagnosis before it catches you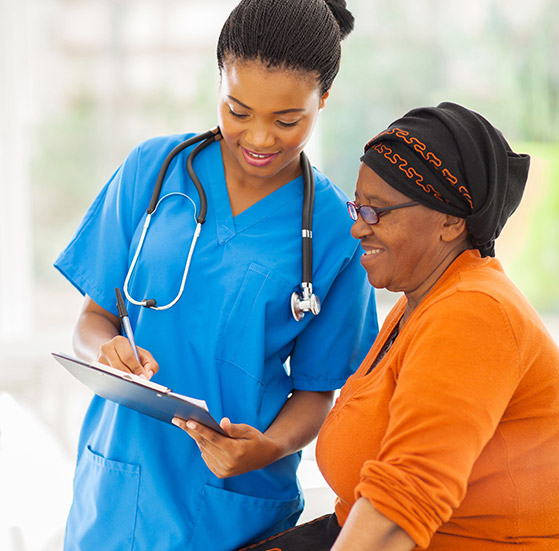 Product
Features
A first-time diagnosis of a Critical Illness can instantly pull the mat from under your feet. Our Critical Illness Cover promises to keep it intact and help you focus on getting better.The PRUCritical Care will provide, for a specified period of time, a lump-sum pay-out, in the event of first time diagnosis of a listed critical or terminal illness.
Lump sum amount paid at the first time diagnosis of a critical illness ranges from Ksh.1M to Ksh. 15M

Minimum eligible age is 18 years and maximum is 60 years. The maximum age you can get cover is 65 years.

The minimum period you can take the cover for is 5 years and maximum is 20 years as long as the maximum age to be covered is 65 years

It further provides you with an option to purchase an additional death benefit at an additional cost which will be paid to your loved ones and beneficiaries, in the event of your passing on due to natural causes, accidents, or an illness.
Lump-sum Pay Out
Pay-out on a first-time diagnosis of a critical or terminal illness as defined in the policy.
Flexible policy Terms
Allows you to tailor the product to suit your life insurance needs.
Create an immediate estate for your dependents
Help your family maintain their lifestyle without having to sell land or property
Claim insurance tax relief
Enjoy insurance tax relief of up to 15% of the premium paid, up to a maximum of KES 60,000 annually
These benefits will be payable for a maximum of 30 days (maximum benefit) in the policy year

Category
Age in years
Maximum Daily Benefit
Main member plus the spouse
18-55
20,000
56-65
10,000
Children
Less than 18 years
10,000
Parents & parents in law
Less than 65 years
10,000

Critical Illness Benefit

Full 100% lump sum payment will be made upon first diagnosis of a critical or terminal illness (as defined) regardless of severity.

The benefit is payable only on the first incident of a critical illness diagnosis or Terminal Illness diagnosis.

Optional Death Cover benefit

50% lump sum payment will be made upon death of the policy holder whether due to natural causes, accidents, or illness to the listed beneficiaries within the policy term and before the diagnosis of illness.

The 50% rider benefit (not amount) will be chosen at the discretion of the policyholder.

There is a waiting period of 6 months;

When the cover is starting or when it is being reinstated.

If the policy holder goes for medical checkup before getting the cover, then the waiting period will be waived off.

The waiting period for cancer diagnosis of 6 months still applies with or without the medical checkup.

You will be required to provide the following documentation for a claim to be paid under PRUCritical Care policy;

A duly completed claim form.

A copy of the member's identification document(s).

Official medical report from a registered qualified medical practitioner showing the diagnosis of the critical/terminal illness; certifying the date, nature and cause of the illness.

Death certificate for death claims.

The following is a list of exclusions, meaning, any claim that arises from the occurrences below will not be paid.

Pre-existing conditions. Any existing medical condition not disclosed prior to the issuance of the policy, for which treatment was received or recommended, by a medical practitioner or of which the person assured was aware prior to the date of declaration of the policy.

A condition directly resulting from the abuse of alcohol or illegal drugs.

Cancer:

All cancers in stage 0 (in situ) and all premalignant conditions

All tumours of the prostate unless histologically classified as having a Gleason score greater than 6 or having progressed to at least clinical TNM classification T2N0M0.

All skin cancers (including cutaneous lymphoma), other than malignant melanoma that has been histologically classified as having caused invasion beyond the epidermis (outer layer of skin).

Chronic lymphocytic leukaemia unless histologically classified as having progressed to at least Binet Stage A

Tumours in the presence of any human immuno-deficiency virus are excluded.

Stroke:

Transient ischaemic attack

Vascular disease affecting the eye or optic nerve

Death of tissue of the optic nerve or retina / eye stroke

Migraine

Vestibular disorders

Traumatic injury to brain tissue or blood vessels

Heart Attack:

Acute coronary syndromes, including but not limited to angina without myocardial infarction.
Not what you're
looking for?
Don't worry, we'll help you get the correct solution that fits your needs. Provide us with your phone number and we will call you right back.